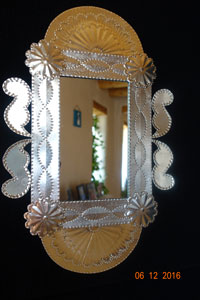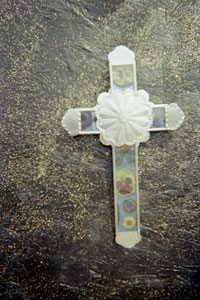 It was the desire and urge of prior generations in these small communities of New Mexico to create works of art regardless of many hardships and limited means and accesses to a large extend of precious metals or materials.

My intent is to create something beautiful from a simple thin, flat piece of metal. I want to continue the legacy of my ancestors, which is that we are survivors and we can create art from simple forms or media. I use a very traditional technique and try to create new and old patterns of the art. Some of my pieces are very traditional and some are contemporary.

I have been creating pieces since 2000 using a basic punching tool, tin snips and mallet. All of my work is hand-cut. When given the opportunity I have tried to give life to this art form by teaching in different school art programs. My hope is that my work has given someone a small sense of pleasure, as it gives me.
PO Box 142
13 State Road 110
El Rito, NM 87530